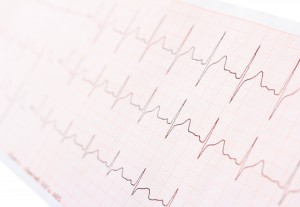 Electrocardiograms are a type of diagnostic test that our caring doctor, Dr. Abroon, uses to assess the electrical activity of the heart. An electrocardiogram, also known as an ECG or EKG, is a painless test. Our doctor and medical team will place small electrode patches on the skin of the chest, arms, and legs. While you lie on the table, the electrocardiogram machine will take readings of the electrical impulses that travel through your heart. The electrocardiogram procedure is simple, comfortable, and quick. With an electrocardiogram, Dr. Abroon can:
Assess the hearth's rhythm
Evaluate heart abnormalities
Examine blood flow to and from the heart
Diagnose heart attacks
In certain cases, we may recommend both a resting phase electrocardiogram and an exercise phase electrocardiogram to further assess your cardiovascular health. For more information on electrocardiograms and their uses, we welcome you to contact our medical office in New York, New York.

Dr. Abroon was recommended by a friend when I moved to NY. I have been his patient for over 3 years. He is a wonderful doctor, is very kind and thorough. He will never hesitate to get the extra medical test when I am concerned about something. I never have a problem to get an appointment, or referral. I have recommended him to some of my friends without any hesitation.
It is hard to find a doctor who really cares and does not rush. He is great!
– Catherine B.