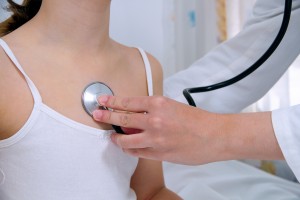 Pulmonary function testing (PFT) is used to assess the functional state of the lungs. Dr. John Abroon, your internist in New York, New York, may recommend pulmonary function testing to measure:
Air volume moving in and out of the lungs
Compliance of the chest wall
Speed of air moving in and out of the lungs
Diffusion characteristics of the lung membrane
The most common pulmonary function test is spirometry, which measures the breath. To complete the spirometry test, you simply take a deep breath and breathe out into the device. Spirometry measurements can help Dr. Abroon to assess lung conditions such as cystic fibrosis, asthma, pulmonary fibrosis, and chronic obstructive pulmonary disease. To learn more about spirometry and pulmonary function testing, we invite you to call or visit us today!

Finally, a doctor who got it right! I've been two specialists who were unable to pin point the cause for a condition that now turns out to be very minor, and easily resolved. I was recommended to this doctor by a high profile TV producer who's been a patient of his for years. I liked that Dr. Abroon asked a lot of questions and gave me all the time necessary before discovering the problem.
– James P.